Welcome to another edition of our Kansas City Chiefs Monday Mailbag! The new happenings since our last article are that Dee Ford was officially traded to the San Francisco 49ers for a 2020 2nd round pick, Eric Berry was released, and Tyreek Hill's name got caught up in a battery case in which he was not named in the report other than it being at his home. We will get into all these topics and more when we get to our 8 questions we have today! There has been so much going on with the Chiefs and we have so many questions, including one from Kevin Ross aka "Rock" the former Kansas City Chiefs safety from 1984-1993, so let's get right to it.
Honey Badger in Kansas City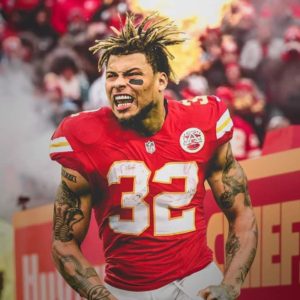 We've had the great fortune and pleasure of having former Chiefs defensive back Kevin Ross aka "Rock" on our podcast numerous times throughout the years and are excited he's participating in our Chiefs mailbag! I actually reached out to Kevin to ask him a little about Tyrann Mathieu before I answer his question about the cities mood. Kevin was the defensive backs coach for the Arizona Cardinals from 2013-2017, the exact same years Tyrann came into and played for them. Kevin said, "He has great instincts and plays fearless. He will energize the team and the city will love him. His best football is ahead of him." Kevin is now with the Tampa Bay Buccaneers as their new defensive backs coach heading into 2019. As far as the cities mood, everyone is ecstatic about Tyrann becoming a Chief, not only because we cut Eric Berry and have a hole there, but hearing how he worked with Kevin in Arizona. Tyrann mentioned how Kevin would talk about his time in Kansas City and how much he loved playing for the Chiefs, one factor in which made this an easy decision for Tyrann to come here.
---
Potential Trade Targets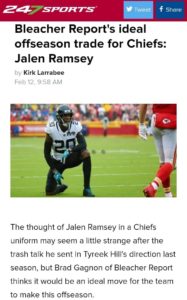 The Chiefs trading for Jacksonville Jaguars cornerback Jalen Ramsey was proposed by Bleacher Report's, Brad Gagnon. Who remembers Jalen talking trash about Tyreek Hill last season before the game? Jalen referred to Tyreek as a return specialist, not a true and talented wide receiver. Then again, that's just Jalen being Jalen as he talks trash quite frequently and nobody is safe. Jalen did a pretty good job on Tyreek other than a big 36 yard catch and run down the left sideline. After the game Jalen said, "Yeah, man, I was tired. He's the fastest guy in the league. It felt like a track meet." I don't see the Chiefs making this move even though we all know the Chiefs desperately need secondary help, even with the addition of Tyrann Mathieu. The Chiefs have showed what kind of players they want on this team by trading away a volatile Marcus Peters and signing, by all accounts, a leader like Tyrann Mathieu.
---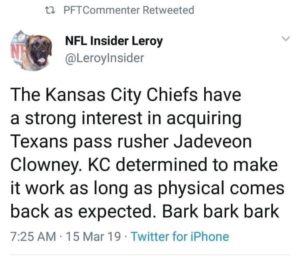 This is a trade proposed by an NFL insider dog, so take it for what it's worth. Obviously, this hasn't been reported by any credible source and to think the Texans would trade one of their best players to the Chiefs is a little far fetched. However, the Chiefs need a player like this whether it's along the defensive line, linebackers, or a cornerback. I feel like the Chiefs have Chris Jones and Tyrann Mathieu, their only two players you can count on and know what you're getting from them every game. The Chiefs need that third big impact player whether it be through trade or the draft. Kansas City recently lost out on cornerback Ronald Darby who chose to go back to Philadelphia on a one year prove it deal. Now, the Chiefs are in talks with former 1st round pick, Darqueze Dennard from the Bengals. There is still a lot of time and options open for the Chiefs, but they need to start making some bold moves for this defense to get to where it needs to be.
---
Tyreek Hill NOT Under Investigation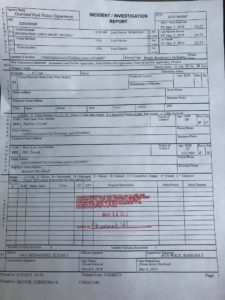 This is the first report from March 5th in which Tyreek Hill and his fiancé are named in a child abuse/neglect case, but it has since been closed. Tyreek nor his fiancé were charged as the district attorney declined to prosecute. The information we are lacking on this case we may never know. It's also worth stating that while yes, we want Tyreek to be available to the Kansas City Chiefs this season and beyond, the fact there are even these kinds of reports out there are troubling. We are glad he wasn't charged, but let's not have anyone mistake our intentions as the real focus and concern should be for the boy.
---
This is the latest report that started the whole craze on social media as first reported by the Kansas City Star. Tyreek Hill's name is not mentioned in this report, only his fiancé's name. This is a battery case not a child neglect/abuse case as that was the prior report. The information swirling around this was that Tyreek Hill was under investigation for battery against his son. Since then, new information has come out that Tyreek Hill was in San Diego during this and that his son's arm wasn't broken as alleged in the first wave of articles. Also, his fiancé posted a video on snapchat of their son dancing to the video game Fortnite, 23 hours before the report was leaked. The only connections Tyreek Hill has to this is that it's his fiancé named in the report, it took place at his residence, and it involves his son, but nowhere in the report is Tyreek's name mentioned. The Kansas City Star continually reporting that Tyreek Hill is "under investigation" for this latest report seems to be irresponsible and unprofessional. Being first isn't nearly as important as being right, especially when it comes to journalism. We can only they hope they write a retraction and personal apology to Tyreek Hill. Having said that, we also need to remember that there are two reports involving Tyreek's son and his safety and well-being are what's most important here. We will need to wait and gather more information on both these cases before stating if they need parenting classes at the very least or if these reports are completely unfounded.
---
Draft a WR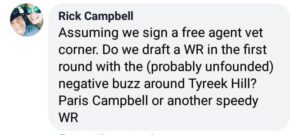 I believe the reports on Tyreek Hill are unfounded and that he will be with the Kansas City Chiefs in 2019 and beyond. If for whatever reason that were not to be the case, I would like to spend my first pick on Ole Miss WR D.K. Metcalf. However, seeing as how I believe Tyreek will be here, the Chiefs should draft the top player on their board from the defensive side of the ball. Now, whether that be an edge rusher, big man in the middle, a linebacker or a corner, this defense still needs quite the overhaul. In losing Ronald Darby to the Eagles, the Chiefs have a big hole to fill at corner even if they were to sign Darqueze Dennard. Now don't get me wrong, they should look at wide receiver in the draft, but just not in the 1st round. I'd like to see the Chiefs draft a shifty slot wide receiver who can get open quickly and be a safety net for Patrick. There are three names I'm keeping a close eye on during the draft to fit that role and those are: Deebo Samuel from South Carolina, Andy Isabella from UMass, and Hunter Renfrow from Clemson.
---
Moving on from Berry, Houston, and Ford

Unfortunately, letting go of our three biggest names on defense was the right decision. Former Chiefs General Manager John Dorsey, now with the Cleveland Browns, put us in a bad spot in regards to the salary cap and we needed the cap relief that came from releasing/trading these three. Anthony Hitchens didn't meet expectations, but with the switch to the 4-3 defense under new defensive coordinator Steve Spagnuolo, the hope is that Hitchens can get back to form. While Hitchens was with the Dallas Cowboys he rarely missed a tackle and was an attacking run stopper. Under Bob Sutton too many players were thinking instead of reacting and playing with their instincts. Also, it's worth noting that none of the three players we let go did anything in the AFC Championship game against the Patriots to help us win. In that game, Dee Ford was in the neutral zone, Justin Houston was invisible and Eric Berry was getting torched by Rob Gronkowski who is a shell of his former self and questioning retirement.
---
Defensive Overhaul

I think we are forced to draft big for defense with the losses of Justin Houston, Dee Ford, Eric Berry and the fact that even with them we were ranked #31. The additions of Steve Spagnuolo, Tyrann Mathieu and Alex Okafor are a start, but there is still a long way to go. I'd like to see the Chiefs address the defense with at least three of their first four picks. The Chiefs have some holes on offense quite honestly that they could used filled, but when you have the MVP at quarterback the needs aren't as pressing as they are for the defensive side of the ball. I think the Chiefs could use a slot wide receiver, a running back to challenge Carlos Hyde and Damien Williams, and a backup tight end with the loss of Demetrius Harris aka "Incompletrius." The Chiefs need more depth and a starter or two in the front seven and the same goes for the secondary. This draft is going to be key as far as the Chiefs Super Bowl hopes for 2019 because there's not enough quality talent left in the free agent pool.
---
Strong Side Linebacker and Weak Side Edge Player

The additions of Damien Wilson and Alex Okafor help the Chiefs with their versatility for these positions. Are the Chiefs completely done at Sam and Leo? No. This defense and especially the linebacking corps needs competition and depth. Other than Chris Jones and Tyrann Mathieu nobody on this defense played well enough or has proven enough to have their name penciled in as a starter. The competition should be real and intentional this offseason to let guys know that nobody's job is safe and the best player will get the spot, no matter their salary. I'm looking at you Anthony Hitchens! As far as which linebackers play where, I fully expect Damien Wilson to be the SAM or strong side linebacker while Anthony Hitchens takes over the WILL or weak side linebacker spot. That leaves Reggie Ragland at the MIKE or middle linebacker spot, but training camp and the preseason will tell the story as Ben Niemann, Dorian O'Daniel and Martrell Spaight will be fighting to steal one of those roles.
---
Change or Update to the Uniforms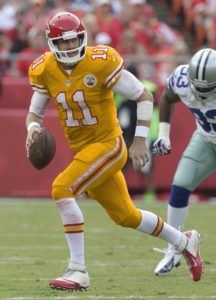 The only change I've seen proposed by fans are a possible yellow jersey and or pants. Although, I've also seen some different helmet variations and the Chiefs do have black jerseys they sell to fans even though they never wear them. I see the yellow or black as possible options down the road as alternates they would wear once in a blue moon, but not serious options for a permanent change. I like the tradition of the uniforms especially with the original franchises like the Chiefs and Packers. Plus, I haven't been a fan of many of the changes teams have made as they seem to always get worse. Seattle and Buffalo's uniforms come to mind right off the bat as worse than they were in the 90's. A little variation might be fun, but big sweeping changes to uniforms seldom work.
---
Thank You
That's it for another edition of our Chiefs Monday Mailbag and I think we got some really thought provoking and fun questions today. Thank you to Kevin Ross, Joe Horton, Timothy Stewart, Rick Campbell, Kelsey Kelley, Kim Moseley, Jay Cole, and Wanda Wolf for the great questions! I'd also like to thank everyone who took time out of their day to read this! If you want to submit a question just comment below and I'll answer it for next week's mailbag! Until next time, take care of yourself and each other!
---
Let Your Voice Be Heard in the Comments Section Below
What are your thoughts on the Tyreek Hill situation?
How excited are you that the Chiefs signed "Honey Badger" Tyrann Manthieu
What do you think the Chiefs should do in the draft?
Who would you want the Chiefs to trade for?
Should the Chiefs make any changes to their uniforms?
Have a question for our next Chiefs mailbag? Drop it in the comments!