Mizzou head coach Eli Drinkwitz is clearly being very calculated when dealing with his current quarterback situation. Last month, the Tigers hosted Georgia transfer QB J.T. Daniels for a visit while current QB's Tyler Macon and Brady Cook competed in the Spring Game.
There is no doubt Drinkwitz is putting pressure on his young QB's by entertaining the idea of bringing in Daniels for a season. It's a move that might make all the sense in the world for Mizzou as the addition of a veteran signal caller could be the missing link for a satisfactory season.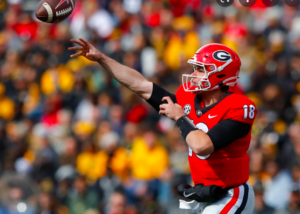 Why it makes sense
With the departure of previous starter Conner Bazelak, the Tigers have very little experience at the quarterback position. Sophomore Tyler Macon played in just three games last season while Brady Cook started the Armed Forces Bowl. Each player had moments in this year's Spring Game but can Cook or Macon be counted on to consistently lead the offense which is stacked with young playmakers? Missouri desperately needs to move off the .500 line where they've been stuck for three years now. Bringing in Daniels would be a high risk, high reward type situation.
Daniels has the pedigree (a former 5-star recruit out of Santa Ana, CA) leadership ability and arm to make Missouri's offense more than viable in 2022. When finally given the reigns in Athens back in 2020, he threw for 1,200 yards and 10 touchdowns and entered 2021 as a long-shot Heisman candidate.
---
The risks involved
There is a reason Daniels is looking at playing at his third school in his college career. He does have injury history (knee at USC and oblique at Georgia). He also saw Stetson Bennett emerge last season and take the Bulldogs to its first national title since 1980. We are also talking about a player that is fairly immobile which could hinder the dynamic nature of Drinkwitz' offense. We know both Cook and Macon can run while Daniels simply does not have that in his arsenal.
You also risk the possibility of Macon/Cook transferring if you bring in Daniels for a year. The Tigers have high-profile QB recruit Sam Horn waiting in the wings and a move like this would likely push one of them out. If that happens you would go into a season with an injury-prone starting QB and, perhaps, a freshman backup.
---
Final thoughts
While we have no timeline for Daniels' decision, it appears to be down to Missouri, West Virginia and Oregon state for his services. In the end, Missouri finds itself in a situation where recruiting has vastly improved and excitement is high. What we have yet to see is this translating to more on-field success which is why 2022 is important. Finding a way to get away from six-win type seasons is going to be key for Drinkwitz starting now and especially by 2023. J.T. Daniels will be looking to go somewhere that can serve as a
---