A sun-drenched crowd of 65,000 had very few chances to rev to a frenzy during Missouri's 24-14 victory over Vanderbilt on Saturday. The fact remains that Mizzou is now bowl eligible and 6-2 on the season despite recent offensive struggles. Let's take a look and see how each unit graded out after Saturday's victory: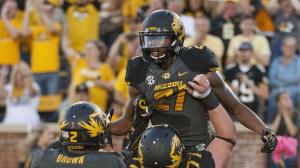 Offense: C
The offense is graded on a curve this week due to overly-abysmal statistics thus far during SEC play. Let's just say the the Mizzou offense took a few baby steps during this win as they were able to manage 24 points and nearly 400 yards. Quarterback Maty Mauk was not spectacular, but threw two touchdown passes and did not turn the ball over, which was nice to see. He was once again under the 50% completion mark but he was able to make plays with his legs to help extend drives. The Tigers also rushed for 247 yards as a team and will likely need to continue to have success in the running game to win games down the stretch.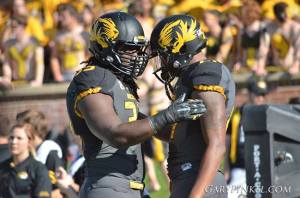 Defense: B
First-time starting quarterback Johnny McCrary was able to do a few nice things in the passing game and threw for 196 yards and two TD's, but Mizzou's defense allowed only two scores and managed a key interception. Missouri's pass-rush was not as dominant as it was against Florida a week ago but Vanderbilt did a good job working the play-action pass and McCrary frequently got rid of the ball quickly which helped negate Markus Golden and Shane Ray.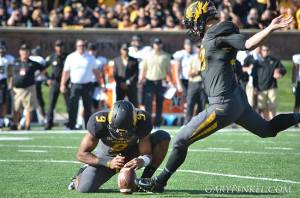 Special Teams: C+
Kicker Andrew Baggett was 1-2 in field goal attempts including a bad miss on a 42 yard attempt in the first half. Baggett was efficient on kickoffs, however, routinely blasting the ball out of the back of the endzone. Vanderbilt was not about to make the same mistakes that Florida did a week ago and chose against kicking to dynamic returner Marcus Murphy.
Coaching: D+
It appeared coach Henson was able to simplify the offense this week and committed to the running game for the most part. It is understandable that they are trying to get Maty Mauk back in rhythm with his receiving corps, however, there seemed to be far too many drives wasted by poorly executed pass plays. Mizzou also had 14 penalties against them for a combined 100 yards, and that is on the coaching staff. An offense that is struggling as bad as Missouri's cannot afford negative yardage and frequently had to deal with 2nd and 3rd-and-long situations.