It's no secret that the Missouri Tigers have been the beneficiaries of an unprecedented run of recruiting success. The Tigers' latest prize came in the way of 6'5, 275 LB DT Jalen Marshall from Overland Park, KS, a 3-star prospect (according to Rivals.com).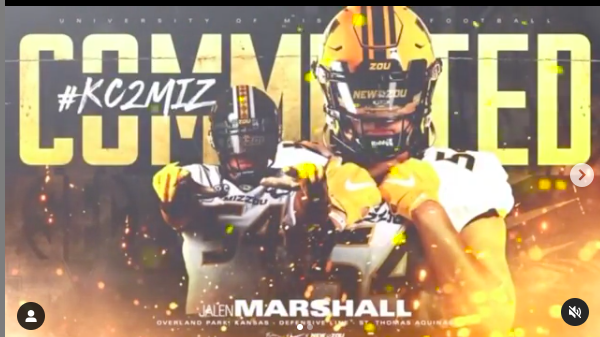 On Tuesday, Marshall became Missouri's 12th commitment for 2022, a class that is currently ranked 18th in the country. Spurning schools like Nebraska, Oklahoma State and Indiana, Marshall made it abundant clear that playing in the SEC is of prime importance.
"The SEC has proven that it's the best conference to play in." Marshall stated during an interview with Starcade Media. (The SEC) develops the most NFL players so playing in the SEC will get me the best shot to go play in the NFL."
Marshall goes in-depth on his Mizzou commitment
Starcade Media: I guess it's a pretty simple question but why was Mizzou the choice for you? A lot of people thought Oklahoma State would be the landing spot.
Marshall: Mizzou is the place for me due to of a lot of reasons but the main two were: it's in the SEC and it's close to home.
Starcade Media: Describe your relationship with Mizzou coach Eli drinkwitz, he seems to be a guy that players are really starting to take notice of on a state and national level.
Marshall: Yeah Coach Drink is really personable and funny! He's just fun to be around.
Starcade Media: With the new name and image and likeness rules in college football, have you thought about building your own brand once you get to school?
Marshall: Yes 100% I've been trying to gain more followers on all of my social medias so more brands will hit me up.
Starcade Media: Missouri is really on a tear right now recruiting wise with a top 20 class. Did the recruiting momentum play into your decision at all?
Marshall: Yes it did, it showed me that I would have some great teammates going to Mizzou with me.
Starcade Media: Missouri has several players committed from the KC metro area, do you plan on kind of becoming a recruiter yourself now that you're on board?
Marshall: Yes I plan to help Mizzou recruit, I've already talked to Cayden Green (2023 Lees Summit OL) and I will talk to other players as well.
Starcade Media: Do you feel like Mizzou is becoming a destination for many national level high school prospects?
Marshall: Yes Mizzou is becoming more successful at recruiting which will lead to success on the field.