Despite the offseason signing of JuJu Smith-Schuster and Marquez Valdez-Scantling, the Chiefs still have a hole at the receiver position heading into the 2022 NFL Draft. The team hosted Georgia WR George Pickens on Thursday which is nothing to scoff at as teams are only allotted 30 visits per draft.
With the recent blockbuster trade of Tyreek Hill to the Miami Dolphins, the Chiefs are now sitting fat and happy with eight picks in the first four rounds of the upcoming NFL Draft. While other positions of need (corner, edge, safety) remain at the forefront, packaging picks to move up or selecting a quality receiver at 29/30 still makes all the sense in the world.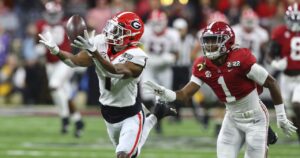 George Pickens: Why We Like It
Pickens is a big, fast, physical receiver that possesses all the tools necessary to be a top-flight NFL receiver. While the Chiefs will miss Tyreek Hill's dynamic speed, Patrick Mahomes has never had a weapon like a George Pickens on the outside. His 6'3 frame, ability to get off the jam and physical route-running style could be a perfect fit in the Chiefs offense.
Pickens also possesses more than adequate hands. According to PFF, the charting company has only noted 2.1 percent of his targets as drops over his three-year college career, six times less than the rate of North Dakota State's Christian Watson, who is projected to go in a similar range as Pickens.
While Pickens broke many of Georgia's freshman receiving records in 2019, he followed it up with another tremendous season in 2020. While sitting in the press box during the Missouri/Georgia game that year, we spoke with a beat writer from Georgia's Rivals site UGAsports.com about Pickens. The media member laughed when we asked if Georgia hypothetically would trade Pickens (then just a college sophomore) for Chiefs WR Mecole Hardman (who also played at Georgia and was in his second year in the NFL at the time.
"That's hilarious, but no way." The media member stated while laughing. "Hardman's a gadget guy, he's not running crisp routes and putting in the work. Pickens is a straight DOG!"
Perhaps we'll be able to compare the two players should the Chiefs find a way to select Pickens later this month.
College Statistics
| Season | REC | YDS | AVG | TD | LNG |
| --- | --- | --- | --- | --- | --- |
| 2021 | 5 | 107 | 21.4 | 0 | 52 |
| 2020 | 36 | 513 | 14.3 | 6 | 51 |
| 2019 | 49 | 727 | 14.8 | 8 | 46 |
What We Don't Like
It's hard to find many knocks in Pickens' game. Injuries are a concern as he played just over 60 snaps in 2021 due to an ACL injury suffered last Spring. His 40 time is also not going to jump off the screen. He ran a 4.47 at the NFL Combine which ranked him 16th amongst receivers. The other parts of his game are so strong, however, that he was considered a high first round pick prior to the injury. As long as there are no further injury concerns, we still like Pickens to go in the back third of the first round.
Overall Thoughts
The Chiefs are going to have every opportunity to add depth and address their needs in this draft. While many Chiefs fans are clamoring to rebuild the defense, it's also important to continue to surround Mahomes with adequate weapons. Whether you are talking about moving up to take a Jameson Williams type or watching the chips fall and taking a Pickens/Treylon Burks, rest assured that Brett Veach and the Chiefs are looking closely at the receiver position.
George Pickens Highlights
---