To Say that NFL Network analyst David Carr, older brother of Raiders quarterback Derek Carr, suffers from a slight case of family bias would be the understatement of the year. For those that follow David on Twitter, his constant straw man arguments and false hope for Raiders stardom is a source of great comedy for many of his followers.
In a recent article for gvwire.com, David makes his arguments as to why Raiders fans will be California dreaming in February. Oh, and spoiler alert, they are going to beat the L.A. Rams in a high scoring game at SoFi Stadium in route to their triumph.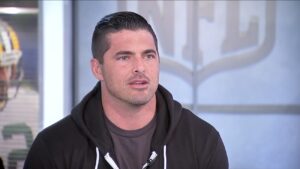 "Every year, there's a team that seemingly comes out of nowhere and rises to the NFL's upper echelon." Carr wrote in the article. "Examining the Raiders' 8-8 record last season, they are the No. 1 candidate to be that team."
"For starters, they won at Kansas City and would have swept the Chiefs if not for a blown coverage with less than 30 seconds to go."
Of course David conveniently left out a few important facts while trying to make his case such as the fact that the Raiders have not won the AFC West in 19 years and have only made the playoffs once during that span. Since Andy Reid arrived in Kansas City, the Chiefs are an astounding 13-3 against the Raiders in head-to-head matchups.
"Come Feb. 13, Tom Brady, Aaron Rogers, and Patrick Mahomes will watch the Super Bowl, not play in it, at SoFi Stadium in Los Angeles."
Sorry Brady, Rogers and Mahomes, David Carr believes you will be watching his brother Derek hoist the Lombardi and head to Disneyland despite all of your actual accomplishments and accolades. Lest we forget that Carr also picked the Chiefs to miss the playoffs outright in 2019…
Twitter responds to David Carr's predictions
You can read David Carr's entire article here