They announced the top 4 for the college football playoff with Alabama, Michigan, Georgia and Cincinnati. Everyone would love to see a 16-team college football playoff, but 8 seems to be as far as we could go. They've already changed the overtime rules to help alleviate the wear and tear on these kids' bodies. So with that said, and this being inevitable in the near future, let's delve into what that would look like this year.
---
---
8-team college football playoff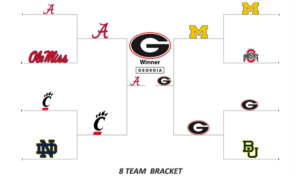 This may be a rare time where it winds up with a lot of rematches and most likely ends up being the same. Georgia is the winner here as they are working WR George Pickens back into the lineup. Pair that with Alabama appearing to have lost WR John Metchie III to a torn ACL and I think Georgia finds a way to win the rematch. I didn't discount Ohio State and Notre Dame for upset bids. However, Notre Dame has a new coach in Marcus Freeman with Brian Kelly leaving for LSU and I'm not sure Ohio State can block Michigan defensive end Aidan Hutchinson.
---
The 2021 College Football Playoff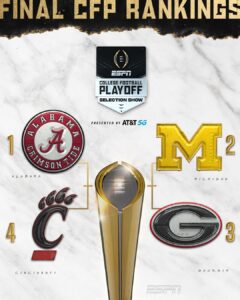 ---