On Sunday the Kansas City Chiefs (3-3) hosted their fellow Missouri resident St. Louis Rams (2-4) in a battle for possession of the not-so-prestigious Governor's Cup, awarded to the winner of any Show-Me-State showdowns…to be re-awarded when they happen to face off again.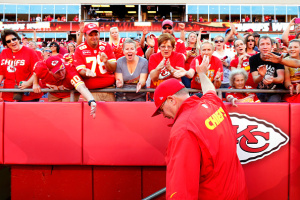 In a game where Kansas City entered with their back's against the wall due to early season losses, the Chiefs took control in the 2nd quarter and never let up on the way to a 4-3 record…the first time this season it has been above .500. The Rams scored on their opening drive and never put points on the board again, despite being in the red zone twice more. With the picture of the 2014 season finally being painted into perspective, Kansas City has looked like a playoff team in every game so far besides the Titan's loss-the only outlier. The Chiefs other two losses were against QUALITY competition in Denver and San Francisco, both of which were very close and tight games without many key players. There is a lot of season left to unravel, but almost halfway through Kansas City has a lot of things in their favor.
---
Offense:
Not many tight-ends have as many screen passes called for them as rookie TE Travis Kelce does, a testament to the big man's speed. Kelce only saw 58% of the offensive snaps. This raises an eyebrow, although expect Kelce to be in for the vast majority of the snaps by season's end barring a major setback. He is simply better than starting TE Anthony Fasano.
QB Alex Smith fumbled at midfield with 2:37 left in the 1st quarter. Kansas City got lucky when the ball went out of bounds and their first touchdown drive of the day proceeded.
RB/WR De'Anthony Thomas causes opposition to have to know where he is at all times due to his blazing speed. Thomas continues to have a portion of plays designed for him called every week on offense since he has been healthy, and he continues to make the most of his opportunities. Thomas saw a season high 14 snaps against the Rams.
Kansas City turned the ball over again with 7:56 left in the 1st half. There was a botched handoff between RB Jamaal Charles and Alex Smith on an option play. St. Louis recovered the fumble and returned it 6 yards to the KC 8 yard line. The Rams ran the ball on the next consecutive plays for 2 total yards. Then Rams QB Austin Davis was sacked by S Ron Parker for a 14 yard loss. St. Louis left the red zone empty handed after attempting a 38 yard field goal that was NO GOOD, wide right.
Jamaal Charles, Chiefs all-time leading rusher, scored his 5th touchdown of the young season.

Alex Smith threw only ONE of his 28 passes further than 10 yards downfield. If a deep chain-mover doesn't emerge better teams will begin to get closer and closer in the box, daring Smith to throw deep. Alex Smith, through 7 games, has performed admirably considering the lack of protection/absence of big-time playmakers. Smith has really taken what is given to him and nothing more, making it even more interesting for when he does have to carry the load for the team (Which will likely happen at some point this season). Can he do it?
In the 3rd quarter Rams DE Robert Quinn had Alex Smith dead-to-rights for a sack, but went for the strip-sack. Smith escaped his grips for a 14-yard scramble and a Chiefs 1st down. Smith's running abilities have allowed the team to really develop their offensive line and let them gel. He has masked one of this team's most glaring weaknesses-on paper.
FB Anthony Sherman is an unsung hero in KC. Sherman has been one of the best blocking fullbacks in the league since he was acquired by Kansas City. It's merely a bonus that he is a consistent FORCE on special teams as well. When Sherman gets to touch the ball next, watch how his teammates react. They're always ready to celebrate their quiet leader.
Jamaal Charles exploded up the middle for a 36 yard rushing score early in the 4th quarter with 14:27 left. It's hard not to notice a difference in Jamaal Charles' demeanor; he seems to have finally become comfortable with his superstar status. Charles is one of the most humble athletes of his caliber and it is nice to see him finally enjoying the spotlight instead of inching away from it shyly.
Second-string RB Knile Davis showed off his speed and physicality on his 15 yard run with 12:49 left in the game. Davis had the speed to bounce to the outside to find a lane and the power to run over Rams S Cody Davis. Unfortunately Cody Davis was injured on the play. Knile again proved his mettle this week as a great complement to Charles.
---
Defense:
The Chiefs defense only allowed St. Louis to score once, on the opening drive of the game. The main mistake on the lone Rams scoring drive was a 43 yard reception by WR Kenny Britt deep.
CB Sean Smith has been as steady as they come for Kansas City this season. He's missed only 2 tackles this season, not including the 3 in the opening season loss to Tennessee (Which is his ONLY bad game so far). Smith has been like glue in pass coverage this season.
OLB Justin Houston has simply been dominant this season, on pace for 22-ish sacks through a full season. Houston is in the midst of a contract year, in line to receive a huge contract while currently leading the NFL with 10 sacks. Justin Houston is forcing GM John Dorsey to open up the checkbook with his play and will likely remain in Kansas City, for one more season at LEAST. With Alex Smith extended Dorsey & Co. have some leverage with no big pending free agents besides Houston, allowing them the ability to franchise tag Houston for a season if they cannot agree to terms. Justin Houston is a star though, and players of his level rarely leave their teams. He will likely receive an enormous extension from Kansas City at some point.
Justin Houston firing his team up to play the St. Louis Rams. Houston currently leads the league in sacks with 10.

The Kansas City Chiefs currently rank No. 1 in passing defense. This group of players has been coached on the fundamentals vigorously and it shows. They also have been put in good positions to succeed by defensive coordinator Bob Sutton, who has far exceeded this defense's expectations after losing ILB Derrick Johnson and DE Mike DeVito to season-ending injury and CB Brandon Flowers to free agency. Sutton's group has performed even absent Pro Bowler S Eric Berry and starting ILB Joe Mays, both of whom should be back soon.
DE Allen Bailey has really produced this season so far, adding a sack and a half on the day to make it 4 sacks in the first 7 games. Bailey has been on a recent hot streak, that being his third game in a row with at least a sack.
OLB Tamba Hali was nicked up late in the 4th quarter and went to the sidelines. Hali has practiced fully with the team since, so it was merely precautionary. Chiefs 2014 1st round pick, OLB Dee Ford, replaced Hali for the remainder of the game. Ford's first play he contributed for a sack with Allen Bailey after Houston flushed the QB out of the pocket.
Dee Ford also showed another positive sign of his growth as a player by making a great tackle for a loss on his former teammate at Auburn, RB Tre Mason, with 4:30 left to play. Ford showed his extremely fast first step is translating at the NFL level, constantly bursting off the line of scrimmage at the snap of the ball.
---
Special Teams:
Knile Davis returned the opening 2nd half kickoff 99 yards for a touchdown, the 2nd of his career.

K Cairo Santos was 2/2 on the day, kicking a career-long 53 yard field goal towards the end of the 1st half. He also made a 28 yard attempt in the 2nd half. Santos has proved his range to be further than many previously thought.
P Dustin Colquitt continued his quietly spectacular ways, pinning the ball inside the Rams 20 yard line 3 times. Colquitt remains a very valuable asset to this team.
Knile Davis returned the opening 2nd half kickoff 99 yards for a score. Davis had great blocking on the play as his Chiefs teammates held their blocks, allowing him to find his 5th gear and show that he's no one-trick-pony. It was Knile Davis' 2nd career return touchdown.