Many believe the Chiefs got quite the steal when they traded up to select Kentucky tackle Darian Kinnard with the 145th pick in the 5th round of last weekend draft. Kinnard was a two-time All-SEC tackle and was a consensus first team All-American and could prove to be a valuable asset for Kansas City.
So what do we know about Kinnard? During interviews at the Senior Bowl in February, Kinnard wore a sweatshirt with a picture of the White House over the words "Traitor Joe's." The words above the image said, "Selling away your freedoms one at a time."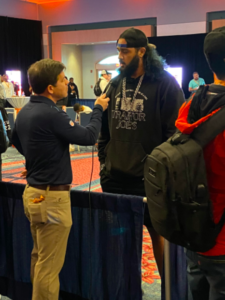 When asked about the sweatshirt Kinnard responded: "Really, the pandemic experience, I felt like it wasn't as much as a crisis as I think it needed to be," Kinnard said. "I think it was more of a scare tactic, but at the end of the day that's my personal opinion. I felt like I still could have gone about my daily life. Still was out doing things, still was out going to the park, still was able to talk to people without being scared of things. My pandemic experience was kind of cooped up. It's my personal opinion that Joe Biden's not a good President, he's got a lot of faults."
Could this kind of transparency be one of the reasons Kinnard fell all the way to the fifth round? It is very possible although, at this point, most Chiefs fans are largely more concerned with what kind of a fit he is for the team and the work he puts in moving forward.
---