In a battle of Defenses, the Broncos intercepted Joe Flacco twice, including one by Darian Stewart (former Baltimore Raven) in the end zone to seal the game with :34 seconds left.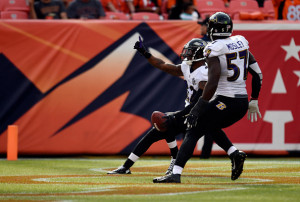 The Ravens intercepted Peyton Manning once and sacked him 4 times, holding a Peyton Manning led offense to 219 total yards. The only touchdowns occurred on pick 6's in the 3rd quarter. Jimmy Smith intercepted Manning amd took it back 24 yards to the end zone giving Baltimore the lead, 10-9. Then Broncos CB Aqib Talib returned the favor, intercepting a Joe Flacco pass and running it back 51 Yards for the touchdown, putting the Broncos ahead 16-13. Denver added another Brandon McManus field goal to tack on 3 more after the longest drive of Peyton Manning's career. Denver marched 81 yards on 17 plays & ate up almost 11 minutes off the clock while putting up 3 points and forcing the Ravens to score a touchdown on their last possession, it almost happened. Flacco marched the Ravens down the field with 2:55 left
in the game, but the drive ended on an interception. The Ravens defense played great, but losing star defender and the heart of the team, Terrell Suggs, for the year to a torn ACL is going to hurt them. Jimmy Smith played well, but then again so did the whole secondary. The Ravens receivers clearly still have work to do, but nobody was able to get open and rookie wide receiver Breshad Perriman needs to get back soon from his injury to add a deep threat. The Ravens offensive line needs work too. Left tackle Eugene Monroe left in the 1st quarter due to a concussion and the makeshift line had Joe Flacco scrambling for his life most of the game. The Broncos only sacked Flacco twice, but disrupted his rhythm all game. The Ravens will now look to rebound next week when they head to Oakland and there is no better team to play when you need to get things back on track.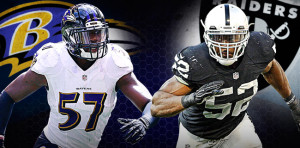 Bal (0-1) Den (1-0)
Bal : Flacco 18-32, 117 yds, 2 INT's, Forsett 14 rush, 43 yds, M. Brown 2 rec 25 yds, J.Smith 8 tckl, INT for TD.
Tucker 2-2 FG's (52,44).
Den : Manning 24-40, 175 yds, 1 INT, Hillman 12 rush 41 yds, Sanders 8 rec 65 yds, Trevathan 9 tckl, Talib 3 tckl, INT for TD.
McManus 4-4 FG's (57,56,43,33)