The Missouri Tigers downed #15 Kansas State in dramatic fashion on Saturday inside a sold-out Faurot Field in Columbia, MO. For Mizzou, the win symbolized tangible evidence that head coach Eli Drinkwitz has the Tigers heading in a positive direction as the program has been plagued by .500 seasons dating back to 2019.
Today, Tiger fans are waking up on a Sunday feeling about as good as they've felt about the team since at least 2020. The energy inside the stadium was top-notch on Saturday and the pandemonium that ensued as Harrison Mevis made the game-winning 61-yard field goal is a moment frozen in time for all that bore witness.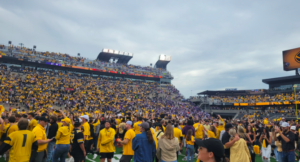 Tiger fans, you earned this one. Yesterday was exactly why you cut out early on your kids Saturday morning soccer games and drive four hours round trip to watch your favorite college team play football. It was fun, it was dramatic and it ended in euphoria. Mizzou fans have been starved for a moment like Saturday and you finally saw your patience rewarded. Take a bow. The noise-level inside Faurot Field when Mevis' 61-yard kick went through the uprights was awe-inspiring.
Brady Cook, you take a bow as well sir. Brady picked a great day to have a great day. 350 yards, two passing touchdowns and a rushing touchdown helped silence many of the doubters that Cook has faced for over a year now. Drinkwtiz scolded Mizzou fans for booing Cook before the game and you know what, he was right. Cook outplayed Kansas State quarterback Will Howard in a meaningful, hotly-contested game. That means something.
I hope Harrison Mevis survived last night. His herculean effort to boot an SEC record 61-yard field goal will live on in Mizzou lore forever. It's been a rough year for Harrison as the once-automatic kicker had regressed mightily. Mevis was mobbed and dog-piled by teammates after the game and we can assume that he had himself a little bit of fun after the game as well. Someone check in on the young man this morning, seriously.
Luther Burden is, as the kids would say, HIM. seven catches, 114 yards and two touchdowns for the future NFL first-round pick. Burden is elevating the Tiger offense to levels it could not possibly reach this season without his services. Burden also went on an epic rant after Mevis' made field goal that included waving goodbye to K-State players exiting the field.
A special season could be in store following this win. This was a bit of a crossroads game for the Tigers. Lose and the fanbase was ready to bail as 6-6 and a trip to the Gasparilla Bowl would become the likely outcome of the 2023 season. Now, Mizzou sits at 3-0 with games against Memphis and Vanderbilt looming. A 5-0 start is not only possible, it's the absolute expectation. You saw Georgia and Tennessee look very beatable on Saturday. We already know what Vanderbilt is and Arkansas lost to BYU and could lost five straight. Right now, this looks like the potential for a 7-5, 8-4 type season. Is more possible? Absolutely. Would 6-6 be acceptable once again? Absolutely not.
---