Mizzou basketball fans long thought to have their winter's free due to apathy over a once-proud program now has our permission to start tuning in again. Those that were scarred by nearly a decade of poor coaching hires, uninspired play and empty arenas are now starting to take note. The Tigers completely dusted a second-straight ranked opponent on Wednesday night and they did it inside an electric Mizzou Arena. The #19 Kentucky Wildcats were the latest victim of Missouri basketball's resurgence led by first-year head coach Dennis Gates.
Casual fans that decided to tune in earlier in the month, only to have their hopes dashed by an elite Kansas team should be alerted it's now safe to turn the TV back on again. The Tigers bludgeoned John Calipari's latest underachieving Kentucky team 89-75 as senior Kobe Brown led all scoring with his second-consecutive 30-point outing.
"He's put in a formula that this time, this is how they will succeed, they way they are playing."

John Calipari after losing to Missouri
5 thoughts on Mizzou's win over Kentucky
Tiger fans, you can start thinking about the NCAA Tournament. Wins over UCF, Illinois and Kentucky have put to rest many doubts about Mizzou's soft schedule early on. The SEC is a very good league and will routinely test the Tigers night in and night out. Missouri has put itself in a position where going 9-9 in the league should get them in.
RANK THEM. They've earned it. Dennis Gates' Tigers have just put together perhaps the best two -game stretch we've seen in years. They didn't just beat Illinois and Kentucky, they beat them soundly and led wire-to-wire. This weekend, Missouri will enter the top 25 for the first time since 2020.
Mizzou Arena was on fire. The energy literally permitted through the TV. Missouri fights for loose balls, makes sound passes and plays with passion and enthusiasm. Tiger fans have been waiting a decade for a team like this. The proof is there that there is a lot of life in this fan base, they just need to see some coherent level of coaching and on-court prowess to show up. They are getting that now.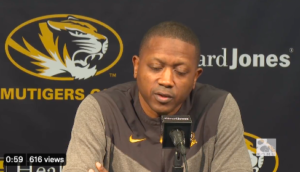 So what is the ceiling? Right now, it's hard to tell. The players on this team really understand their role. Kobe Brown is your go-to scorer and D'Moi Hodge reminds one of a stone cold shooter like Clarence Gilbert. Nick Honor is a steading force and not required to score much. Tre Gomillion is a spark of energy that plays with his hair on fire. There is very tangible team chemistry. You can't put a ceiling on this team just yet. Is it going to be a 2-seed in the NCAA Tournament? Likely not. But you can't remove that possibility yet. If anything, the floor seems to be the NIT should things fall apart during conference play.
Bottom line, Missouri basketball is fun again. You've waited a decade for this. With the exception of a memorable moment or two along the way, Mizzou basketball has been an afterthought. Slowly, you stopped attending games, then you stopped watching on TV. The days of Melvin Booker, Kareem Rush and Marcus Denmon just kept getting smaller in the rearview mirror. A year ago, you watched a hapless Cuonzo Martin team get completely destroyed by Kansas, Illinois and Kentucky in route to a 12-win season. The Tigers have 12 wins currently and just beat Illinois and Kentucky…badly. As one poetic fan said on a message board after the game last night, "I'm ready to be hurt again."
---