Ah, what a fun time of year. We are a mere two games into the 2014 NFL season and, as usual, there is chaos screaming in every which direction. A torrid of overreacting fans (and some analysts) are already condemning players/teams because of a rough start or a bad outing.
The other end of the spectrum have some heralding Allen Hurns as an Offensive Rookie of the Year candidate after ONE good fantasy football game. Injuries are coming in the handfuls, as typically happens in the first stretch of the year…EVERY year, bringing promising player's and squad's years to a screeching halt. Notable players such as Robert Griffin III, Jamaal Charles, A.J. Green, Eric Berry, Derrick Johnson, Chris Long, Vontaze Burfict, Ryan Matthews, Vernon Davis, Jordan Cameron, Roddy White, Doug Martin, Jake Matthews, Mark Ingram, Gerald McCoy, Michael Johnson, Jon Beason, Ben Tate, DeSean Jackson, Knowshon Moreno, Charles Tillman, Marcedes Lewis, Tavon Austin, and MANY more have made appearances on injury reports already.
Adding to all of this are the individual and equally horrifying scandals involving Ray Rice,
Adrian Peterson, Greg Hardy, and Ray McDonald, all rocking the boat of the NFL. Roger Goodell's inability to right the ship as of yet combined with his very questionable decisions and statements as of late have thrown him into the middle of a national media firestorm.
Many NFL players sounded off about Goodell and the NFL's decision-makers on twitter:
@nflcommish ain't no fun when the rabbit got the gun huh?

— James Harrison (@jharrison9292) September 10, 2014
NFL players get fined for avoiding the media and Q&A sessions. Goodell hand picks an interviewer and network. #hypocrite

— John Skelton (@johnskelton19) September 10, 2014
Sean Payton was suspended for one year. "Ignorance not an excuse…"

Say no mo

— Doug Baldwin Jr (@DougBaldwinJr) September 10, 2014
---
I thoughtfully decided to add a calm and serene escape from all of the chaos, by making an all-too-early ranking of the top 5 offensive and defensive players that are already making a case for 2014 NFL MVP after 2 games, or 12.5% into the year. You're welcome.
OFFENSE: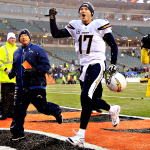 1) Philip Rivers– Rivers manned the attack against San Diego, commanding the offense while maintaining time of posession to take the wind and gas out of Seattle's young team. Rivers performed well and allowed his open playmakers (Antonio Gates) to make plays for him.
2) DeMarco Murray– Behind a very strong and athletic offensive line Murray has run very hard and well after finally becoming 100% healthy.
3) Calvin Johnson– It's hard to argue with Calvin as the most dominant offensive player in the NFL. The man simply outdoes everyone.
4) Le'Veon Bell– Bell has slimmed down the past two offseasons and early results show a much shiftier Le'Veon Bell, still posessing his bruising rushing style.
5) Julio Jones– Ask Matt Ryan and he would say Jones should sit atop this list undoubtedly. Julio doesn't look like he is coming off an injury and should continue to prove his mettle as a top-5 WR in this league.
DEFENSE: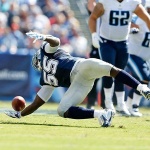 1) Rolando McClain– Can't say ANYONE saw that one coming. McClain walked into a situation in Dallas completely barren of defensive impact players. This, in turn, allowed McClain to step up and make the plays that come his way. He has had 2 very solid showings, with a one-handed interception proving his athleticism still remains.
2) Ryan Kerrigan– Kerrigan has terrorized opposing quarterbacks thus far with 4 sacks this far and add in his 2 forced fumbles and he's solidified his spot on this list.
3) Chandler Jones– Offseason rumblings turned out to be true about Jone's development, he has been a far better player this season, already adding AFC Defensive Player of the Week to his resume.
4) Jason Verrett– Verrett has been tested early in his career, facing off against the likes of Michael Floyd and Larry Fitzgerald and holding them to 27 yards when going his way.
5) Kyle Fuller– 12 tackles and 2 INT's in two games. Kyle Fuller has started his career off with a bang, but still has room to grow. Chicago needs a few defensive playmakers to step up and Fuller is on the right track so far.