Missouri bolstered its 2023 football recruiting last week with the addition of 4-star Lees Summit WR Joshua Manning. The 6'2 195 LB receiver took to Twitter to announce his decision back on July 21st.
Manning commits to Mizzou
Manning chose Mizzou over a plethora of schools including Nebraska, Kansas State, Arkansas and many more. Clearly, playing in the SEC was important to Manning who told us in a recent interview "You've got to play against the best to be the best."
Joshua Manning is Missouri's 8th recruit for the class of 2023 and the fourth from the state of Missouri. He is the third 4-star (according to Rivals.com) on Mizzou's commitment list thus far.
Joshua Manning Interview
Starcade: Why was it important to you to make your commitment prior to the 2022 season starting?
Manning: I felt like it was important making a decision that early so I could get it out of the way and still enjoy my high school life.
Starcade: In the end, why was Mizzou the right choice for you when you had schools like Nebraska and Arkansas and many others vying for your services?
Manning: I feel like it was the right decision for me because you know it is close to home, my brother went there and I just like the offense that's going on down there.
Starcade: Describe your relationship with coach Drink and this Missouri football staff.
Manning: I have a great relationship with the coaching staff. Coach Peeler and I clicked instantly.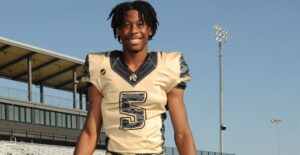 Starcade: What would you say is your greatest strength as a wide receiver and what skills do you feel like you need to work on as you head to the next level?
Manning: I think I'm best at just being an athlete and just making plays and I feel like I need to work on my route running.
Starcade: There are many young, talented receivers on the Mizzou roster. How important was it that guys like Luther Burden, Dominic Lovett, Mookie Cooper etc picked Mizzou as well? Do you feel like they paved the way for you to commit?
Manning: Yeah it most definitely made it a minute clear that you know that other receivers of my caliber are buying in. Made my decision more comfortable.
Starcade: Coach Drinkwitz Has been recruiting at a very high level since he arrived in Colombia, do you plan on helping out with this year's recruiting class as well?
Manning: I plan on helping out most definitely. Trying to get some guys right now.
---