Whether it be a historic landmark that immerses you in the innocence of days gone by or state-of-the-art palaces, America boasts a number of top-tier sports venues.
Americans value sports like few other things in our lives. For many, attending a sporting event is much more than watching your favorite team play. There is truly an experience involved whether you are watching your favorite NFL team at your home stadium or taking a memorable road trip just to enjoy something new.
If you're ever up for an ultimate sports fans wanderlust, you better start checking these venues off your list.
Top 10 sports venues in America
Fenway Park (Boston, MA). For history and atmosphere, it's hard to compete with Fenway. In many ways Fenway is the very essence of baseball.
Arrowhead Stadium (Kansas City, MO). Start with Arrowhead if you're checking off an NFL stadium bucket list. The pre-game atmosphere alone is intoxicating and the game itself will leave your ears ringing for days.
Madison Square Garden (New York City). A venue that has hosted everything from Wrestlemania to NBA and NHL Finals. MSG is the jewel of the Big Apple.
Allen Fieldhouse (Lawrence, KS). It is not a college basketball shrine. It is THE college basketball shrine. There is no better atmosphere in the country when it comes to college hoops.
Tiger Stadium (Baton Rouge, LA). The sights, the sounds, the smells. Go to a night game in Baton Rouge at least once in your life and thank us later.
Wrigley Field (Chicago, IL). See Fenway Park. It's an experience that is few and far between in baseball in 2022.
The Rose Bowl (Pasadena, CA). The setting is indescribable especially on a picture-perfect January 1st afternoon. Get there just once in your life and enjoy the sights, beautiful Pasadena setting and perfect Bermuda grass.
Lambeau Field (Green Bay, WI). There are many shiny-new NFL stadiums to visit, but none give keep you in all the feels quit like Lambeau. Even after renovations, it still feels like a college stadium plopped down in the middle of a neighborhood.
Ohio Stadium (Columbus, OH). The Horseshoe is a college football mecca. Go watch Ohio State play Michigan and revel in the definitive midwestern football experience.
Cameron Indoor Stadium (Durham, NC). It's really Allen Fieldhouse light, but is one of the last in a dying breed of historical arenas with impeccable atmospheres.
Photo Gallery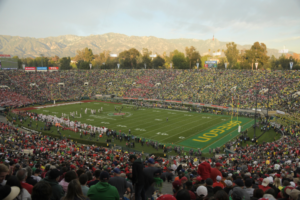 Honorable mention
Churchill Downs (Louisville, KY)
Memorial Stadium (Lincoln, NE)
PNC Park (Pittsburgh, PA)
Notre Dame Stadium (South Bend, IN)
Daytona International Speedway (Daytona, FL)
Dodger Stadium (Los Angeles, CA)
Michigan Stadium (Ann Arbor, MI)